Jaworzyna Krynicka ul. Czarny Potok 75, tel: 18 471 5271 www.jaworzynakrynicka.pl 9:00 - 18:00
each year considered the best ski station in Poland. Snow covers it for about 150 days a year. 12 kilometres of snowgroomed, lit ski runs having the flow capacity of 14000 people/1h. The longest lit piste in Poland; cable car, 2 chair lifts, 8 ski lifts, 2 training lifts, equipment rental places, ski school, constant care by GOPR mountain rescue service, many gastronomic points, 1000 parking lots.
Krynistler Snowpark
Kamery internetowe
Słotwiny ARENA ul. Słotwińska 51A, tel: 18 471 5367 www.slotwinyarena.pl 8:00-22:00
10 ski runs of various difficulty levels, chair lift, complex of T-bar lifts + Baby Lift and Snow Park. Cross-country ski loop.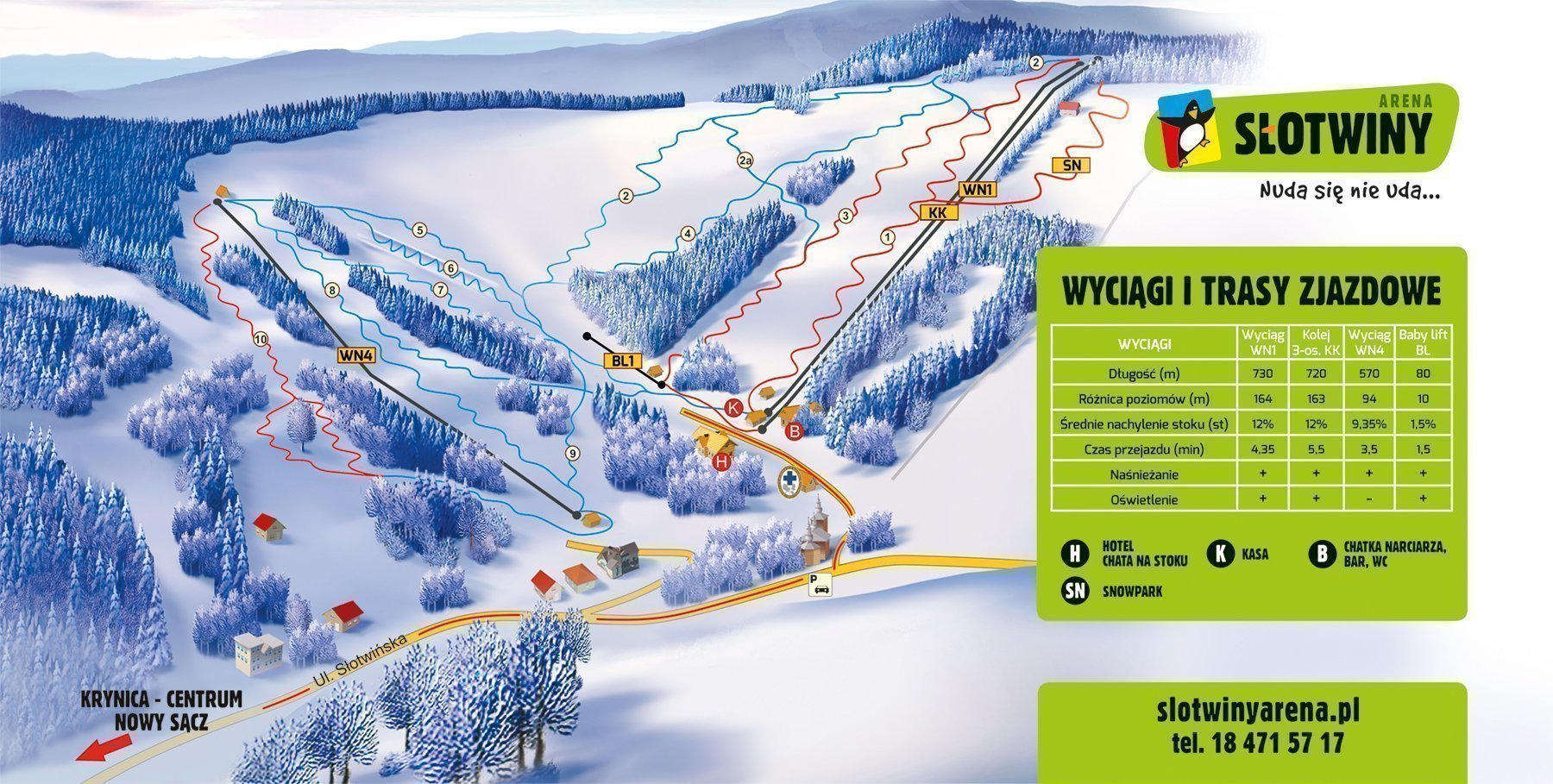 Słotwiny ul. Słotwińska 53, tel: 18 471 2726 www.slotwiny.pl 9:00-20:00
Chair lift of 950 metres, T-bar lifts, ski lifts for children, flow capacity of 3000 people/1h
Type

Price:

All day

70PLN

A ticket
from 8:00 a.m. to 3:00 p.m.

50PLN

4 hours

45PLN

2 hours

30PLN
a fixed-term card may be used by 1 person only
the deposit for a card equals 10PLN
2. With a chip - Points
8:00 - 10:00 - points/drive
10:00 - 16:00 - 8 points/drive
po 16:00 - 6 points/drive

Points are valid for the whole season.
The deposit for a card equals 10PLN.
1 piont - 0,5PLN

3. A ticket for the small ski lift
1 drive - 1PLN
Available cards:

10 lift - 10 PLN
20 lift - 20 PLN
30 lift - 30 PLN

Henryk ul. Dąbrowskiego, Krynica-Zdrój tel: 18 471 5822 www.henryk-ski.pl
the smallest ski station, but located in the very centre of the spa. T-bar lifts –very good for beginners.

Tylicz SKI ul. Wolności, Tylicz www.tylicz-ski.pl Czynne: 9:00-20:00
chair lift, T-bar lifts, 5 kilometres of groomed ski runs. Ski station good for the whole family.


Master SKI ul. Pułaskiego 11, Tylicz tel: 504 239 397 www.master-ski.pl 9:00 - 20:00
station in the centre of Tylicz. 3 lifts, rental place, ski school, free parking space.
Cross-country ski lovers should visit the newly opened piste leading from Góra Parkowa to Tylicz. The route is 13 kilometres long. The two-kilometre-long section from Roma to the top of Góra Parkowa is lit. The route goes through forested areas characterized by many vantage points with the views of Krynica-Zdrój and the top of Jaworzyna Krynicka.
Cross-country skiing equipment rental places:
Tylicz, ul. Wolności 1, phone: 512 121 500